Mbox2xml
Mbox2xml 2 Released!!
After well over 12,000 downloads of Mbox2xml, version 2 is finally released!
Mbox2xml 2 has better support for various character sets, generates more user friendly webpages and much more!
Scroll down to the download section now!
What is Mbox2xml?
Mbox2xml is an email archiver for Mozilla Thunderbird, which extracts messages from the mbox format used by Mozilla Thunderbird and stores them in an XML format, which can be viewed as web pages in a browser.
Backing up emails can be a cumbersome task, and the results are often not very user friendly nor easily accessible. These are the two main reasons why Mbox2xml was created.
We thought an email archiving tool should have the following properties:
Easy to use.
The archives should be easily accessible on any computer from any data storage device.
The tool should allow for automation so it can easily be integrated with existing back-up methods.
Therefore it was decided that the program should store the exported emails in an XML format which, together with a provided stylesheet, can be viewed in any modern webbrowser, no matter where the backup is stored. Also, XML is easily imported into existing software solutions. And finally, Mbox2xml has both a graphical user interface for ease of use, and a command line version for easier automation.
TOP
Download
Mbox2xml does not contain any spyware, viruses, trojans nor other unpleasantries. Mbox2xml may be used free of charge in a personal, non-commercial setting. Please contact us at tools@elit.nl before using it in any other situation.
Mbox2xml version 2.03.0
download
last update
size
Mbox2xml windows installer

This installer can be run in 'silent' mode from the command line by providing the /S parameter. Add /D=<path> to install to a non-default location.

2016-06-27 12:21:39
7.66 MB
Mbox2xml 7-zip archive

This archive, in 7-Zip format, can be used for manual installation.

2016-06-28 14:33:43
5.30 MB
If you like Mbox2xml, then please consider supporting us with a small donation.
TOP
The Mbox Format
The email client for which Mbox2xml is initially designed, is Mozilla Thunderbird. This popular program stores the emails it receives in a format called Mbox, which is widely used by other mail programs. Although untested, Mbox2xml should be able to export emails from any Mbox file, whether it's created by Thunderbird or not.
Where to find the Mbox files?
In Mozilla Thunderbird, go to the 'tools' menu, and select 'Account Settings'. You'll see a configuration screen with settings for each email account. Select the 'Server Settings' for each account, to see where the emails are stored locally. Mbox files have no extension, and are named like the folders in Thunderbird (e.g. 'Inbox'). Mbox2xml can also search for Mbox files. See the manual section for more details.
Finally, there are two things you need to keep in mind:
Thunderbird stores sent emails in a seperate Mbox file by default. Make sure you export both the Inbox and Sent folder if you want Mbox2xml to reconstruct your email conversations.
Before using Mbox2xml, please make sure you let Thunderbird compact your mail folders. This will make Thunderbird remove 'junk' and prevent it from showing up in your export. If old junk mail still keeps lingering, please have a look here.
TOP
Features
Mbox2xml has the following features:
Extracts emails, including attachments, from one or more mbox files and stores them in XML files and attachment directories respectively.
Can generate an XSL stylesheet which transforms the XML into an easy to use webpage, which allows you to sort and browse the messages by date and thread.
Contains both a commandline version and one with a graphical user interface.
Emails can be exported for a given date range, or new messages can be appended to an already existing export.
Many other options can be specified both at the commandline or through the graphical user interface.
TOP
Manual
The graphical user interface offers a convenient way for you to combine multiple mbox files into one xml export. The selections you make and options you set can be saved in a file, so they can be easily reloaded next time you use Mbox2xml.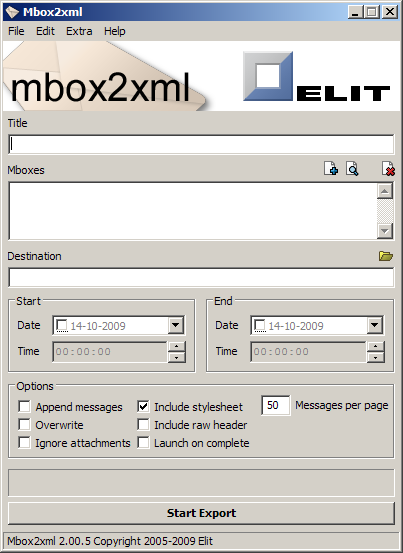 The command line version can be found in your install directory under the name 'mbox2xml.exe'. This version can also use the configuration files created with the graphical version. Type 'mbox2xml -h' at the command prompt for further details.
The following table shows an overview of most the features and settings of Mbox2xml.
TOP
| item | description |
| --- | --- |
| Title | The title to be shown at the top of your export pages. |
| Mboxes | This element show a list of the mbox files you've selected for export. |
| | Manually select an mbox file to add to the list. |
| | Have Mbox2xml search a certain location on your hard drive for mbox files. |
| Destination | The location on your hard drive to which Mbox2xml will write the exported messages. |
| | Browse for a location to which to export your messages. |
| Start Date & Time | Click on the select box and choose a date from the pop-up calendar. All messages sent or received on this date or later will be exported. To remove a selected date, uncheck the box next to it. Use the time box below if you also want to add a specific time. |
| Append messages | If you select this option and Mbox2xml finds a previous export at the given destination, then only messages newer than the newest in the old export will be exported and appended to the old export. |
| Overwrite | This option tells Mbox2xml to overwrite any older exports found at the export destination. |
| Ignore attachments | Mbox2xml will not export attachments when this options is selected. |
| Include stylesheet | If this option is selected, Mbox2xml will include extra files to the export which make it viewable in any modern webbrowser. |
| Include raw header | Use this option to force Mbox2xml to include ALL header information from your emails. This is generally not needed, but may suit advanced users. |
| Launch on complete | When this option is selected, the export will be opened in your default webbrowser after the export is complete. |
| Messages per page | If your export has more messages than indicated by this number, then Mbox2xml will devide them over multiple pages. This can be helpful when exporting large amounts of messages, since webbrowsers can have trouble rendering them in a single page. |
| Start Export | This button starts the export process. |
TOP
Changelog
2011-07-26: Fixed permission issues with Windows Vista/7 and some small bug fixes.
2010-02-23: Removed a bug that caused an error when ignoring attachments.
2010-01-01: A new command line option has been added (-c ), which allows Mbox2xml to scan for mbox files each time it's run.
2009-12-07: Various bug fixes related to the extraction of attachments.
2009-11-21: Added horizontal scrolling to the Mbox list and fixed an error which could result in faulty XML.
2009-10-23: Quick filters added to the web pages, for easy searching.
2009-10-13: First release of Mbox2xml 2.0!
TOP
Feedback
We are very grateful for any feedback or suggestions you might give us. Thank you in advance!
Posts
Gleybson :: 2016-03-03 19:01:09
TOP
gene :: 2015-01-19 01:53:12
Jan 18. Downloaded exe and it installe dbut wil not execute. Msg says it failed to start b/c the configuration is incorrect. But what is it looking for?

I am on XP. How it configure?
TOP
jagruti :: 2014-12-09 22:58:53
Actually i have to convert mail format to XMl format so that from the XML format data i can get the IP address of the sender and domain name.If any one has an idea than plz tell me...
TOP
jagruti :: 2014-12-09 22:52:10
Actually i have to convert mail format to XMl format so that from the XML format data i can get the IP address of the sender and domain name.If any one has an idea than plz tell me...
TOP
KitchM :: 2014-05-15 18:28:44
I noticed a couple problems more. The output turned out to be one continuous document without any formatting or color. It was also cluttered up with unwanted header information. Further, the output was in the wrong order with oldest first. But since it was not readable, that didn't make as much difference as the others.

Thanks.
TOP
KitchM :: 2014-05-14 23:47:39
Thanks for the good program. It would really be handy if it were a Thunderbird plugin. That way it would work on Linux.

Also, it would be nice if it would go full screen so that I could delete those it found that I do not want. The ability to select a large group of entries would also be handy toward that goal.

Thanks again.
TOP
Simone :: 2014-02-09 19:40:54
Splendid software, easy, clean, thourough, multiplatform. Thanks a lot!!
well conceived
TOP
unkown :: 2014-01-14 19:38:07
ps: works with firefox 26 as well :)
TOP
unkown :: 2014-01-14 19:26:54
awesome program! thx
someone's entire thunderbird inbox contents had been mistakenly deleted, and this program allowed all messages to be viewed via internet exporer. To use, i simply copied the inbox file to another location and ran your program on it. Thanks again.
TOP
mark :: 2013-12-20 15:24:31
i came across your program looking for an email archival add-on to thunderbird, but when I tried to find you again in the mozilla add-on search engine nothing I typed in would bring mbox2xlm up.
You may be missing a lot of customers if my experience it typical.
Other than having to find the thunderbird file location on my own and paste the address into the mbox field I love you product. i've been looking for something like this for 2 decades!
TOP
Kino :: 2013-12-17 12:33:30
Outstanding tool !

Is there an "official" .dtd or .xsd schema file that could be fed to a parser rather than a less-reliable reversed ?

Suggestion : what about a parallel too to export vcard files into xcard (xml) format ?

Thanks
TOP
Ken LaFayette :: 2013-10-22 00:41:17
Does your program work in reverse, i.e. xml back to mbox?

Thanks...Ken
TOP
Cliff :: 2013-06-29 01:31:12
The Softpedia link is broken.
Use download.cnet.com
TOP
unkown :: 2010-12-09 17:54:20
great tool, very useful ;)

however i found a bug when converting newer emails. Apparently the date is causing problems, here's the error output:

2010-12-09 18:15:37 - WARNING messagewriter(354): Could not parse date: year=10 is before 1900; the datetime strftime() methods require year >= 1900
2010-12-09 18:28:20 - ERROR controller(185):
Error while running export job!
Traceback (most recent call last):
File "controller.pyo", line 163, in run_job
File "indexer.pyo", line 86, in write_index
ValueError: year=10 is before 1900; the datetime strftime() methods require year >= 1900
2010-12-09 18:28:20 - INFO mbox2xmlgui(441): Export complete
TOP
Keith :: 2010-08-23 14:20:55
I like to automatically back up email as part of my daily shutdown procedure but have abandoned all hope of getting the mbox2xml command line to work without restart-forcing crashes. Here is the AutoIT script I now use in compiled form to get the same result.

Opt("WinDetectHiddenText", 1)

$MBOXTEMPLATE = "E:\test\Update-Email-Archive.m2x"

$PID = Run ( @ProgramFilesDir & "\mbox2xml\mbox2xmlgui.exe" & " " & '"' & $MBOXTEMPLATE & '"' )
WinWaitActive ( "Mbox2xml", "", 5)
ControlFocus("Mbox2xml", "", "[ID:143]")
ControlClick("Mbox2xml", "", "[ID:143]")
WinWaitActive ( "Mbox2xml", "Export complete")
If WinExists("Mbox2xml", "Export complete") Then
ProcessClose($PID)
EndIf

TOP
Elit :: 2010-06-15 07:05:49
Hi Nancy,

Email messages can be sent in 2 different ways: as plain text, without any layout information, or as HTML pages with a specific layout.

When sending an HTML formatted message, most email clients will include a plain text copy. In that case you will see the plain text in your export and an attachment along with it, which has the same text but with formatting.

When you don't see a message text but only an 'html' attachment, that's probably because the email client used to send the message did not include a plain text version.

TOP
nancy :: 2010-06-14 15:33:30
why on the xml web browser pages do some message text content show up in in a little frame so you can read it while others are show at "part-001.html" links?

nancy
TOP
Elit :: 2010-06-14 07:07:19
@Chuck

The AppData folder probably is 'hidden', so please make sure Windows show you hidden files. Also, you might be able to just type in C:\Users\<Username>\AppData into the Windows Explorer address bar.
Of course you could always change the location where Thunderbird stores your emails.

@Blair

Please remember that Chrome is officially still in beta phase :)
TOP
Blair :: 2010-05-30 09:22:45
Somehow after the update to Chrome 5 the "index.xml" is not displaying any content anymore. :(
TOP
chuck :: 2010-04-30 16:17:55
I am using this great program on a Vista machine with no difficulties.

I bought a new computer with WIN 7 and am locked out of the Thunderbird folder with the email in it. Can you tell me how to set up Mbox2 so I can begin backing up my mail?

Thunderbird stores my mail at:

C:\Users\chuck\AppData\Roaming\Thunderbird\Profiles\20che1xs.default\Mail\pop.mail.yahoo.com

I cannot get to the the directory AppData It does not appear in Explorer (the folder "Chuck" is preceded with an icon of a padlock and the the first folder under Chuck is "Contacts"

Any help would be appreciated.
TOP
Elit :: 2010-04-01 05:12:37
I'm afraid there isn't a way to import your messages back into Thunderbird using Mbox2xml.
TOP
worstcase :: 2010-04-01 01:58:51
Hello! Is it possible to import the *.xml-files back into Thunderbird? And if so - how to do that?
Thankyou!
TOP
Elit :: 2010-03-20 14:43:31
No there isn't. You are probably looking for 'index.xml'.
TOP
unkown :: 2010-03-20 06:03:43
is there an index.html missing?
TOP
Older comments not shown...